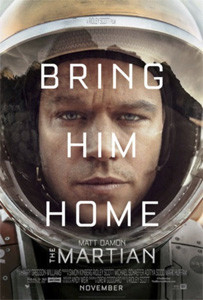 Petoskey Robotics fundraiser offers special viewing of 'The Martian'
Posted: Wednesday, September 30, 2015 7:00am – Petoskey News Review
PETOSKEY – A special showing of the upcoming film "The Martian" will also serve as a fundraiser for the Petoskey Robotics team Saturday, Oct. 3.
The special showing of the film, an adaptation of the novel by Andy Weir and starring Matt Damon, is set for 9:30 a.m. Tickets will be $15, and will include a drink and popcorn. For each ticket sold, $5 will go to support the robotics team.
The plot revolves around the protagonist's struggle to survive on Mars after being left behind during a team expedition. The film is released Friday, Oct. 2. "It's a little bit like McGyver on steroids on Mars," said Valerie Meyerson, a mentor with the Petoskey Robotics Team.
Attendees will also be able to purchase raffle tickets for a chance to win a signed copy of "The Martian" and a movie poster signed by Matt Damon. The drawing will be held on November 21 at the middle school team's local competition.
---