Mentoring
FIRST Jr FLL Team
by Sandy Watson, G3 Green Team 5411
Petoskey Robotics has experienced tremendous growth over the past few years. We think the success of G3 and the Petoskey Paladins has increased the awareness and appreciation for all the FIRST programs for kids. Our FRC Paladins team has grown from 40 to 52 members in just one year, G3 has grown to 2 full teams, our FLL program has grown to 2 full teams, and we added a Jr FLL program this year.
One of the things we felt (and our mentors agreed) we were missing in G3 was the opportunity to mentor younger kids. Especially for our 8 graders, who will be joining the high school team next year, we wanted the chance to share our knowledge and to learn the patience and maturity that mentoring can help us learn. It's not always easy for teenagers to be patient and mature! But, five G3 kids took up the challenge this year to meet every week for eight weeks with our Jr FLL second graders. We helped them learn teamwork and problem solving skills using Lego. They built a really cool crane with a motor and a battery. It has been a lot of fun!
Rookie FTC teams
by Evelyn Schwartz, G3 Green Team 5411
Robotics in the state of Michigan has experienced an explosion in growth over the past several years. Thanks to the generous support of our Governor and Michigan State Legislature, and the incredible amount of engineering and technology knowledge among mentors, new middle school FTC robotics teams have been popping up all over. As one of the few veteran teams in all of northern Michigan, G3 realized we have an opportunity to demonstrate true leadership and gracious professionalism by reaching out to these new northern Michigan rookie teams – many of whom will join us at our Nov. 21 Petoskey State Qualifier.
So, we decided to invite all the rookie teams who will attend our qualifier to come to us for help. Whether it's questions about the new programming platform on Android, CAD design help, or advice on how to put together the Engineering Notebook, we have offered assistance to several teams. We have even invited teams, like Pellston, Onaway and Elk Rapids, who are not far from Petoskey, to come use our practice field for driving their robots. Robotics is a great way to make new friends and share all that we've learned by being part of FIRST.
Example of our invitation email:
Hello, this is the veteran G3 (Geeks, Gears & Gadgets) teams 5411 and 8621 from Petoskey Robotics. We would like to extend a helping hand to you as you prepare your robots and your teams for the upcoming FTC State Qualifier in Petoskey.
Since G3 started in 2011, we have learned a lot about building, programming, and promoting our robots; so, we thought it would be a good idea to reach out to all of you, the awesome rookie teams in northern Michigan to offer our advice, technical help, or even just our friendship. We know just how hard it is for a new team to pull together a functioning robot for competition and also capture just what your team is really all about in your Engineering Notebook.
You are welcome to ask us for help – no question is too insignificant! If you live nearby, bring your drive team to Petoskey and practice on our playing field! We are just an email away.
For assistance, please contact our G3 Coach, Shelley Brantly: shelleybrantly@gmail.com.
Festival on the Bay
Petoskey's annual festival at the waterfront in August. People from all over region and state visit the area. G3 and the Petoskey Paladins (high school FRC team 3618) demonstrated robots from 2014/15 season.
Bear River Clean Up
Annual community event to clean up trash along the Bear River where it flows into Lake Michigan in Petoskey. Partner with Tip of the Mitt Watershed Council and other community teams. Collected a canoe full of trash!
The Martian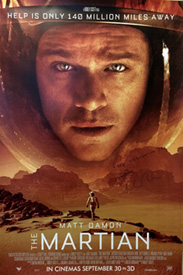 This fall, Petoskey Robotics and G3 sponsored a fundraiser and special premier of the blockbuster, "sci-fi adventure meets NASA geeks" movie – the Martian with Matt Damon. Petoskey Robotics (G3 teams 5411 & 8621 and our high school FRC team, the Paladins) got a portion of the ticket sales and will receive proceeds from a creative raffle which runs through Nov. 21 – the date of our Petoskey FTC Qualifier.
At the beginning of the movie, we ran a quick, homemade "commercial" for Petoskey Robotics teams. We also held a walk-in presentation before the movie started, so while movie patrons picked up their popcorn and snacks, they could watch a demo of our robots, learn about our community involvement programs, and the success of our teams.
Our raffle is really cool. We were able to get a movie poster of The Martian, actually signed by Matt Damon, with our Petoskey Robotics slogan – "Engineering the Future!" We also have a copy of the book, The Martian, personally signed by the author, Andy Weir. We will draw prizes for the raffle at our Petoskey Qualifier and a few lucky people will walk away winners of either the autographed movie poster or the signed book copy.
We thought this was a cool way to demonstrate how much fun science and technology can be. The movie was awesome and really showed off the incredible things science can achieve. So we were able to have a lot of fun, include lots of teens and adults from our community, and raise money for our robotics programs.
Service Club Presentations
Petoskey/Harbor Springs Community Foundation – Youth Advisory Committee
by Nathaniel Wurster of Petoskey Robotics/G3
Petoskey Robotics (G3 5411 & 8621 and the Petoskey Paladins, FRC 3618) presented in front of the Youth Advisor Committee of the Petoskey-Harbor Springs Area Community Foundation. We applied for an ambitious $5,000 grant in order to purchase needed technology and equipment for for Petoskey Robotics, including a new camera for marketing and media, 3 laptops and 6 Chrome books, specifically for scouting and data collection. Three middle school students from G3 and three high school students from the Paladins, along with 2 mentors and a Paladins photographer presented our proposal and information about our program and its many benefits to our community. After the really kind way we were received by the committee, we are keeping our fingers crossed that Petoskey Robotics will receive this grant.
Petoskey Rotary
By Kristian Reeb of Petoskey Robotics/G3
Petoskey Robotics and G3 (Geeks, Gears, & Gadgets) did a presentation at the Rotary Club of Petoskey. This was at the Perry Hotel in Petoskey. We were served complementary lunch, which was very delicious. At the meeting we were invited to join in normal procedures that are a tradition at all the Rotary meetings. We spoke to the crowd and showed off our new G3 robot chassis while the high school FRC Paladins demonstrated their robot from last season's Recycle Rush! challenge. Petoskey Rotary has generously agreed to award Petoskey Robotics a $3,000 grant to support the continued success of our robotics teams. We could not be more grateful!
Petoskey Qualifier Promotion
by Sandy Watson of Petoskey Robotics/G3
What do teenagers do on their day off? Well, several teens from G3 spent their day off from school recently putting up promotional flyers all over downtown Petoskey. The flyers were created by the G3 Marketing/Media team to promote November robotics events sponsored by Petoskey Robotics. Early in the month, the high school FRC Team, the Petoskey Paladins, hosted an off-season scrimmage for 15 teams from across northern Michigan. On November 20 and 21, Petoskey's G3 teams 5411 and 8621 will host an FTC State Qualifier for 24 middle school robotics teams from all over the state. Landon Brantly, Nathaniel Wurster, Kristian Reeb and Sandy Watson had a lot of fun blanketing the town with posters!
Visits to Elementary Schools
Central Elementary
Ottawa Elementary
Lincoln Elementary
Sheridan Elementary
Montessori Children's House
St. Francis
Presentation to STEM Director