We are at the State Qualifiers for FTC in Kentwood MI. There are many other teams here, and although the tournament is just starting, the pressures on!!
Team Photo At State Qualifiers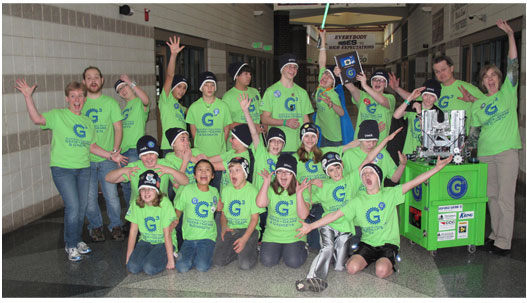 Semifinal Match 1
Semifinal Match 2
Inspire Award Winners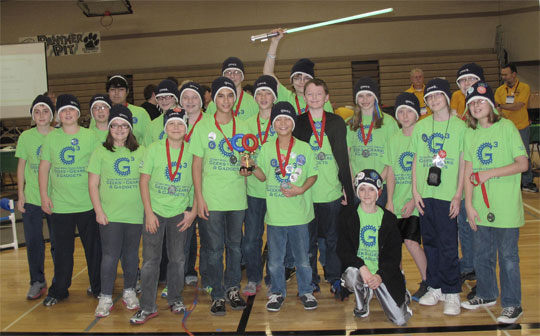 Opening Ceremony
Match 10: Score 70-10 Alliance: 5960-5411
Match 18: Score 60-62
Team Photos
Other Teams at Qualifiers
Thanks To Our Sponsors
After all of the things we have done we have to thank our wonderful sponsors who helped us very greatly. To do this we put them on our robox. Check it out!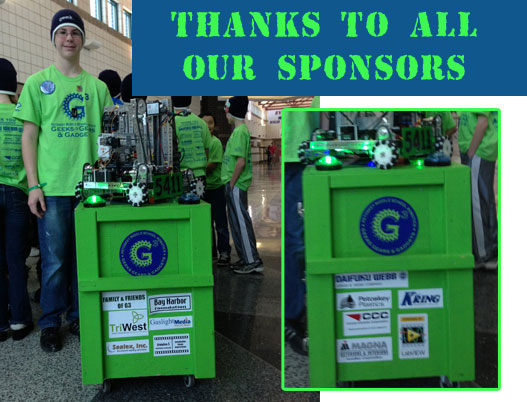 Special thanks to Bigby Coffee in Kentwood MI for use of their wi-fi.
Thanks to all the FTC volunteers and GE Aviation. We had a great time!
Competition Standings
We are very excited about the competition down here in Kentwood so we decided to post the results of the matches on our website.
| | | | | |
| --- | --- | --- | --- | --- |
| match | score | Winner | Alliance #'s | G3 |
| 1 | 10-0 | B | 5641-6482 | |
| 2 | 85-5 | R | 5391-5411 | x |
| 3 | 65-15 | R | 6283-5385 | |
| 4 | 59-18 | B | 6043-5292 | |
| 5 | 37-0 | B | 5391-5385 | |
| 6 | 45-20 | R | 6670-5641 | |
| 7 | 114-30 | R | 6482-6671 | x |
| 8 | 161-16 | R | 6482-6671 | |
| 9 | 70-10 | B | 5960-5411 | x |
| 10 | 77-21 | B | 6043-5391 | |
| 11 | 56-0 | R | 6671-5905 | |