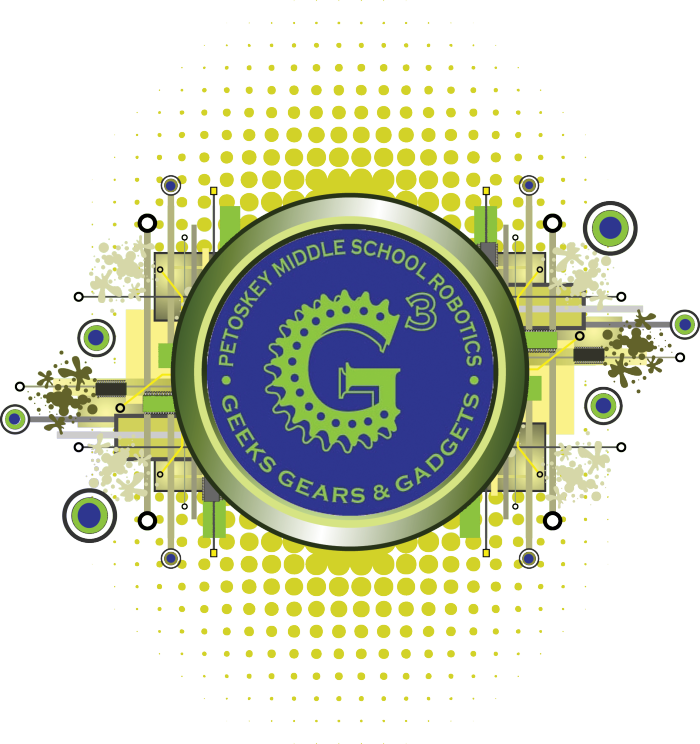 Welcome to the Geek Squad!
We appreciate all of supporters. This includes corporate sponsors, mentors, family and friends and all the "behind the scenes" people and companies that help our team.
The Geek Squad are our "peeps". All of the special people who believe in us and share our excitement in technology.
Alpha Geeks Speak

Alpha Geeks are very special. In geek speak, an alpha geek is an extremely talented technical enthusiast. Our Alpha Geeks inspire us and share their words with us.
"Best of luck G3 Squad!"- Auxiliary Advertising and Design
"Gear up and good luck!" – Frampus Family
Carol Ross
"The best of luck at competition!"- Val Meyerson and Tom Johnson
"Gear up at the Corner Grocer"- Corner Grocer/Scoops
"Julienne Tomatoes encourages young people to have fun at developing an awareness of engineering. Always look for a creative way to answer an engineering question."
– Tom and Julie
"Lots of Luck to Spencer and the G3 Team!" – Al and Charlotte Moellenbeck
"You make your family proud Austin, GO G3 team!!" – Warren Smith
"Keep up the good work Austin and best wishes to the G3 team." – The Sharapov Family
"We love you Austin!!! Good luck to the G3 Team" – Petoskey KOA, Wayne and Lorene Rose
"May the team have a fun and sucessful year" – Mrs. and Mrs. Jim and Marlene Hintz
Ted Case
"WOW! Sounds like G3 Robotics is no small deal. Good Luck! – John and Cathe Hardie
In honor of Anne and the NEW web page. – Berta Molasky
In honor of Gabe – Berta Molasky
"Geeks rule and totally cool! Go G3!" – Sue & Wayne Stroope
Go for the championship!" – Warren Smith, Jenwar Inc.
Raymond and Susan Keller
Geek Squad Members
| | |
| --- | --- |
| Jennifer & Scott Smith | Roger Bashore |
| Jacy McFarland | Alta Munson |
| Susan & Tom Balint | Sara Jane Kane |
| Michael Grusin | Sharon Fairall |
| Bill Case | Mike Mosey |
| Roger Tallman | The Case Family |
| Steve Case | Bob Case |
| Gary & Cathy Ganssley | Chris Dyer |
| Rebecca Parker | Kyle & Pam Smith |
| Kirk Rose | Ken Forest |
| Kline Family | Mathew Kimbler |
| Wolverine Camp | Art & Sharon Schupbach |
| Ronald and Maria Furgeson | Don Brown |
| Enga Bashore | Roger Bashore, Jr. |
| Andy Keller and Mary Jo Flaherty | Ray and Sue Keller |
| Josephine Flaherty | Bryan Burley, Insurance by Burley |
| Steve Tresidder | David Jones |
| Sandy Koehler | Marty and Kathie Breigner |
| Gregg Garver, First Community Bank | Cindy Dickerson, Common Angle |
| Carlin and Karin Smith | Del Moore, Common Angle |
| Camden Smith | |